My Disorganized – Organized life
A blog post! I know!! Your probably thinking what the heck!! She's alive!!
This whole working with kids thing really takes my energy away and at the end of the day of work and shuttling kids around, this poor blog definitely gets the least attention. So that means this blog post is going to be good! great!! (ok, a post.. )
I wanted to share a "mom-tip" that is working for me this year.
Binder Rings.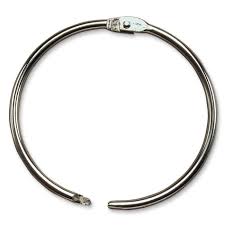 This little gem is inexpensive and has been a lifesaver. I have three children in activities this year. We get notes regarding dance teacher numbers, playschool calendars, drama schedules, hockey updates.. well you get the idea.
Last year, I would try and stick them on our fridge. Eventually they get stuck in the back of papers on the fridge and get demoted to the office. Most of the notes, I don't need to look at daily. A monthly glance to get a phone number or to double check a shedule. These are those important notes that you don't need to have.. until you do!
This year I saw another mom that just takes all those notes and sticks them on a binder ring. The group of papers then can hang in the office on a hook. They are together, grouped and waiting just incase I need something.
The best part, no filing,no muss and so far, nothing lost!! At the end of the year, I'll toss what I don't need, read to start new.
Sometimes, it's the simple things that help me stay semi-organized. Hope it helps you too!