You are currently viewing: Play Groups & Preschool
Play Groups & Preschool
Preschool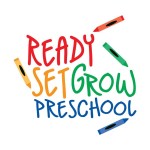 Ready Set Grow Preschool offers a safe and happy environment that is fun, creative, educational and nurturing. Our program focuses on developing play and learning styles in an environment where each child benefits from interaction/ socialization with other children and adults. We are located at 4025 Taylor Street East (at the corner of McKercher and Taylor). We have limited space available for September 2014 in our: Monday and Wednesday morning class for 4 years olds Tuesday and Thursday morning class for 2.5-3 year olds (children must be 2 by January 31, 2014 to register for this program) Our program/ location offers: a spacious three room classroom with access to a gym opportunities to learn through play/ socialization pre-K skill development craft time a music component visits with the residents of Amy House and McClure Place field trips special event days and special guests optional participation in Scholastic book orders lots of parking for convenient pick up and drop off the ability for parents to help out when they want when they can If you would like more information, or to register your child for fall, please contact Maureen at 373-2319.
Play Groups
Here is a listing of some playgroups in Saskatoon. If you know of any more please let us know!
Dragen Tales Den – Dragon Tales Den is a free mom and tot program run out of St. George's Anglican Church at 624 Ave. I South.  It takes place on the 1st and 3rd Thursday morning of each month during the school year.  Call 242-7973
Saskatoon Single Parents Group Meet Up – online meet up group started by a single dad for other single parents
Toon Town Mommies – facebook group. In facebook, search Toon Town Mommies. This is a private group due to the amount of meet up's they do at houses, parks, etc. This group is cull of wonderful moms and has 265 members.
Noah's Playground – Meewasin Valley United Church, 327 Pinehouse Dr.. Ages 0-5. Sessions run Tues and Wed . 9:15-11:15  Cost is $50 .00 per family per session. For more information email zmwiser@yahoo.ca
 Groupe de jeux – French Playgroup – La Passerelle, a French language Family and Child Suppport Centre, offers a variety of French language and bilingual programs, activities and resources. Try out songs, stories and games at the Alice Turner library or Play in motion at the Passerelle Centre. For a complete schedule, phone Christine at 306-653-7446.
Stay and Play – Birth to 5 years old. Tues, Wed. or Thurs. sessions available. Semi-structured, crafts, snacks, story time, toys, activities. Louise St. Community Church. Call 934-5827 (Heather) for more information.
Nutana Creative Playgroup – 1801 Lorne Ave. ph. 652-0299 for more information.
Scooters – Thursdays, 9:15 a.m. to 11:15 a.m, October to May, at Emmanuel Baptist Church, 1636 Acadia Drive.  Parent-supervised playgroup for kids age 0-5.  Bounce-house and other toys to get kids moving, designated infant play area, private room for breastfeeding/diaper-changes, coffee/tea for parents.  $40/family per year or suggested drop-in donation of $5/family/visit.  Registration on arrival.  For more info visit our Facebook group (Scooters – at EBC) or email scooters@ebap.ca.
Lakewood Centre Preschool Room – This is a daycare that you can use as long as you remain in the Lakewood Centre.  Tickets cost $3.00/hour ($1.80 per additional child) or bulk tickets come in bundles of 10 for $24.00 ($14.50 for 2nd child.) . The caregivers are really nice and provide a wide variety of activities for the kids to do. In the afternoons it becomes a STAY AND PLAY room (1-4p.m.Mon, Wed., Fri. or 10-1 on Sat. or 10-3 on Sunday.) Regular Admission applies to stay and play. $6.65 for adults and $4.00 for ages 6+. Kids 5 and under are free. Adults have to pay admission.
Fun Factory – 1633C Quebec Ave. Kids under 12 months are free. This is a giant indoor playground. $4.49 for kids 1-2 years old. 3 years+ $7.49. Adults are free. This is a great place to bring a parent talk group or meet a friend. There is a separate fenced in area for little kids, under 2. Some parents do not respect the "under 2? rule, so it does get a little wild once in a while.
Laswon Heights Mall – Children's Play Center – This play area provides a fun, safe, environment for pre-school aged children to play.  The play pieces are constructed of soft foam that has been hand carved, encased in a soft coating, and airbrushed to resemble life size models of popular summer activities. Please note that this is an unsupervised play area, and adults must stay with and supervise children at all times. You must be six or under to play in the Center, and both adults and children must wear socks in the play area.
 Market Mall Children Play Center – This play area is free located just off the food court. It has different level slides and is fun for kids. Note: Children must wear socks in the play area. (this area can get busy so be careful if you have smaller ones. Sometimes bigger kids can take over)
Saskatoon Soccer Centre – at Saskatoon Kinsmen/Henk Ruys Soccer Centre
**Season runs September 12th, 2016 – May 31st, 2017**
Two huge, fully enclosed fields full of toys & riding cars for pre-schoolers & babies. Great place for parents to relax with friends or run around with the kids to burn off energy!
Monday – Friday 9:30am-11:45am
Drop in rate: $5 for the first child, $1 for each additional child. Prices are for each immediate family.
Upcoming events
April 18, 2017 – Story Time in Saskatoon


10:30 am, activity

April 25, 2017 – Story Time in Saskatoon


10:30 am, activity

May 2, 2017 – Story Time in Saskatoon


10:30 am, activity

May 4, 2017 – Read & Paint


10:30 am, activity