Making the bathroom toddler friendly
In our home, I am out numbered by my children. I have found a few items to help make my life easier. Today I am focusing on the bathroom. It seems once you have children, the bathroom can easily become the busiest room of the house. Here are three things that I have changed in our bathroom to make life easier and one I have my eye one!
Umbra Otto Automatic Soap Dispenser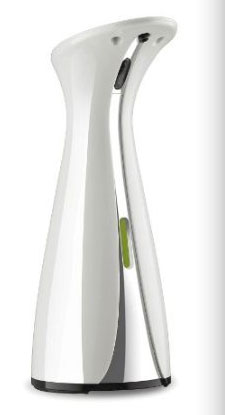 My little ones and I love this auto soap dispenser. It's easy for them to wave their hands under and get a small amount of soap. I can fill it with the soap I purchase and the batteries seem to last a very long time.
Automatic light switch
This is the best change we've made in the bathroom! Our switch is located up high next to the sink. My shorties can't reach the light and when they did turn it on, it would stay on until I turned it off. We purchased a simple auto light switch that we can set how long it stays on when you enter the bathroom. It still has a little switch you can flick to manually turn on and off for bath time. We have changed many of our old switches to these new automatic ones and it's worth every dollar!!
Build in reducer toilet seat
It took me a while to realize they even made these!! We purchased ours from Home Depot and oh how I wish I had purchased this years ago!! All of my girls use this from my 6 year old to my 1 year old. My oldest doesn't feel like a 'baby' as it's part of the toilet seat. My 1 year old likes it as it doesn't wiggle like some of the portable reducers we had used in the past and it's so simple to clean!
No more hooks hanging the reducer off the toilet. No one forgetting to hang it up and it laying on the floor. It's always where to you need it when you need it. I have had to tell company that we have a built in reducer but that's the only learning curve of this toilet seat.
Automatic Bathroom Sink Faucet
Oh this one is on my wish list!! Since we have a double sink in the bathroom, it's going to have to stay on my wish list for a bit. With more commercial bathrooms switching to automatic, it reminds me all the time how I think this would be wonderful to have in our home.  It makes so much sense to have an an auto off on a bathroom sink. Brushing teeth, washing hands and in our case giving barbie the latest make over all tempt my little ones to leave the water running. This would make our bathroom complete and save me trying to explain over and over to 'turn off the water!'