Moms In Motion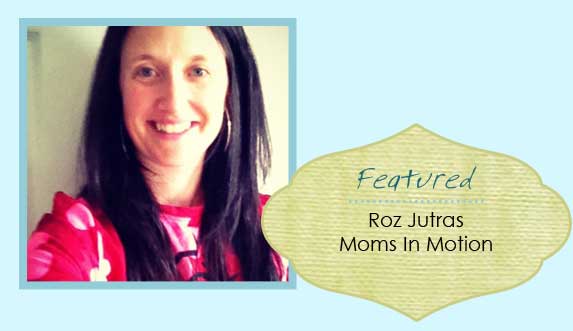 After having Baby 3 my weight was out of control, I was depressed about my weight so I ate poorly. I felt bad cause I ate bad. It's a bad circle to get into. I started stalking errr following people like Roz. She is a true inspiration to me. A super-hero mom of 3 that knows that it's tough finding time for yourself when your mom. She also knows that if you take care of yourself – you feel better, have more energy, and can tackle the day easier.
We all know life after kids changes us all. It's nice to find a fellow mom that understands the obstacles moms face and can help you find time to take care of yourself so you can be a stronger mom for your family.
Contact Information
Roz Jutras
Moms In Motion
email:  momfithormones@gmail.com
web: www.momsinmotion.com
www.momfitnessandhormones.com

Why inspired you to start your business?
I have a passion motivating others get physically active.  Before children I worked as an exercise therapist as well as taught a variety of fitness classes. When I became a mom, I realized the challenges of squeezing in time for myself to exercise.  I also felt isolated at times from being with my kids all day.  That is why I started Moms In Motion in Saskatoon, to help moms get active in a supportive environment with other like-minded moms.
What makes your product unique/different?
This group is designed by mothers for mothers.  Since I am a fitness professional who is also a mom, I understand some of the obstacles moms face when finding the time for themselves with their busy family lives.  I provide them with realistic and attainable goals that fit their lifestyle.
What keeps you motivated?
My family inspires me to pursue my love of fitness as well as being an entrepreneur.
If you could have one super-hero power, what would it be?
As a mom, I would definitely want to freeze time so I can fit in all the things I need into one day.
What is the most rewarding thing about running your own business?
The most rewarding this is that I am doing something that I love and that is to help others be enthusiastic about health and wellness.
Where do you see your business in 5 years?
I hope our Moms In Motion group will keep growing over the 5 years so we can make an impact on Saskatoon families to be active and get movin'!
What tip would you give other moms starting or running their own business?
Do something that you are passionate about.  Set realistic goals for yourself because it is not easy running your own business with a family.  It is all about balance.
---
Moms in Motion is giving away 1 FREE Moms in Motion Registration Fee. Valued at $65.00
Expire June 24, 2013
Disclaimer: Opinions expressed belong to Saskatoon Moms and are NOT influenced in any way. Contest open to Canadian residents only.