Saskatoon WEST Outgrow Outplay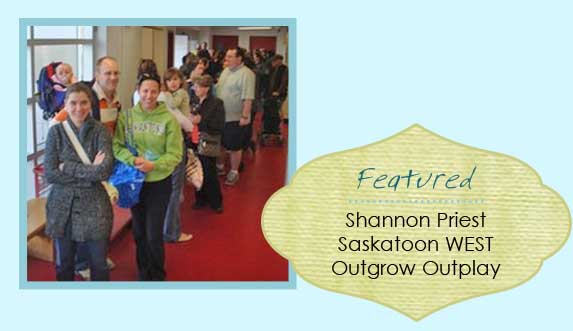 Having a baby? Need a few items for grandma's house? You won't want to miss Saskatoon WEST outGrow outPlay event happeing Sunday May 4th and May 5th.
I love that if you want to try out a new piece of baby equipment, need a second exerciser for the garden, etc – you will find it and more here! Be ready to find some great deals and amazing items all to help your pocketbook.
To make life even better – Shannon has 2 free passes to Friday evening PRE-sale so you can get the best of the best before anyone else!
Contact Information

Welcome to Saskatoon WEST OutGROW OutPLAY! We are Canada's leading Children's Consignment Event!
What can you expect to see at an OutGROW OutPLAY event? Toys, clothes, bikes, play centers, baby gear, strollers, walkers, exersaucers & much, much more! Typical savings for an OutGROW OutPLAY shopper is 50-90% off retail!
If you have children who are constantly OutGROWing their items, con$ign them with Saskatoon WEST OutGROW OutPLAY! Con$ignors earn 65-80%.
Want first dibs on all the best items? Then you NEED to shop the pre-sale! That means you get to shop BEFORE the public! Usually reserved ONLY for our volunteers & consignors, we also love to give away just a few pre-sale passes to deserving parents who LOVE a great deal!
Our upcoming event is already gearing up to be the best Saskatoon has ever seen!!! Come & check us out:
Archibald Arena
1410 Windsor Street
Saturday, May 4th Public Sale 830am-3pm
Sunday, May 5th Half Price sale 10am-1pm
(All tags with "markdown" are 50% off Sunday)
Admission is 1 non-perishable food bank donation OR $2 per adult. Kids are ALWAYS free!
---
Saskatoon WEST outgrow Outplay is giving away 2 pre-sale passes.
Expire May 1, 2013
Disclaimer: Opinions expressed belong to Saskatoon Moms and are NOT influenced in any way. Contest open to Canadian residents only.