SmallPrint Give Away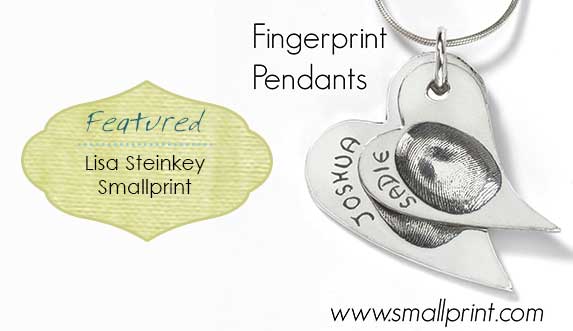 At SaskatoonMoms, we first featured SmallPrint about 3 years ago. I had just had my third baby and was thrilled at the idea of getting those little baby prints made into a charm I could wear! Three years latter, I am still wearing that bracelet almost every day. It's become a special piece for me to wear. It's has a classic timeless look while being something I treasure.
My siblings and I also gifted my mom with a bracelet with all the grandkid pints. The kids love to find their charm and see if their fingers still fit in their old prints.
She was able to coordinate with my family coming from different provinces to get all 9 grandchildren's prints in her studio. We just called and booked our times and she was able to accommodate all of us. Of course you can also see her at events but her home studio was a great setting to make our little ones feel comfortable.

You can also book a home party to receive a hostess discount.
Lisa is amazing at getting little fingerprints just right for new mom charms but she also does so much more.
Lisa can do  memorial jewellery by either going to palliative care, home visits or with the funeral homes.  This is something that I was interested in as my grandmother's health declines. My grandmother is very important to me and knowing that I can add her to my family bracelet is important to me. It makes me feel like it will keep her close to me no matter what.
She can also do pet prints for your special fur baby.
For father's day, my girls did their prints for a special keychain for my husband. I wish my husband still had a formal dress code for work somedays as the cufflinks were so beautiful. His keychain takes a beating but the prints still look crisp and sharp.
Her beautiful work will be a special, unique piece that is timeless and special. Lisa is giving away one fingerprint pendant (value $110).
Enter online and be sure to see her at her upcoming events.
upcoming events around Saskatoon before Christmas
Nov 14th- Saskatoon Family Expo @ Prairieland Park
Nov 28th – Ready, Set, Baby in Martensville 10-2pm
Dec 5th- Bibbidi Bobbidi Boo in Market Mall 10-2pm
Contact Information
Lisa Steinkey
Smallprint
web: smallprint.com
Facebook: https://www.facebook.com/SaskatchewanSmallprint/
Email: lisa.steinkey@gmail.com
---
Draw Date Dec 6
Disclaimer: Opinions expressed belong to Saskatoon Moms and are NOT influenced in any way. Contest open to Canadian residents only.