Concrobium Mold Control [closed]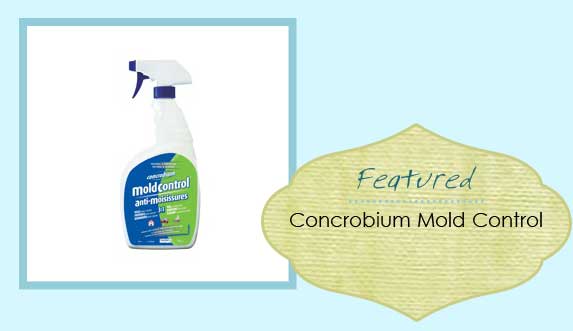 Last summer, our cabin was flooded like many Saskatchewan cabins.  Our beach was washed away and all of our items stored at the lake were covered in smelly flood water.
I headed up to the cabin this spring with a kit of cleaning supplies. I have been using products from the planet people co for about a year now and have to give their products credit.  I headed up with the Concrobium moldcontrol as I wanted something that would help remove and prevent future mold and I didn't want anything I thought may harm my children.
I sprayed and cleaned. I really enjoyed tough stain remover. I cleaned the deck furniture with Gloved off tough stain remover and was amazed at how well it cleaned up the stains.
The gloves off all purpose cleaner & Disinfectant has a great 'clean' smell without being over powerful.
I have since headed up to the cabin again to close it out for summer. How sad is that? I once again sprayed the mold control and cleaned everything down. I was impressed how the cabin is coming along since the flood.
Since I was in a cleaning mood, I also sprayed down the girls play furniture at home with the All Purpose cleaner and disinfectant and used the Gloves Off Tough Stain remover in their playhouse. I took off a summer's worth of play marks!
If you are doing your fall clean up of cabins, trailers or just around the home, The Planet People have a fall cleaning kit to give away. Just leave a comment on your cleaning challenge!
Contact Information

Make Mold Prevention and Removal Part of Your Fall Cleaning Regime
Planet People's "Five Ds" to Clean Up and Prevent Mold
TORONTO, ON – With Fall just around the corner, homeowners throughout Canada may face an unwanted visitor when they close down their cottages, close up their homes and put their camping gear away this season: nasty mold. Mold can damage homes and cottages and even camping gear and can also be a health hazard. Traditional mold–fighting solutions, like bleach, have limited effectiveness against mold and also emit harmful chemicals into the air. Mold can cause thousands of dollars of damage to a home, and can also be a health hazard. Traditional mold-fighting solutions, like bleach, have limited effectiveness against mold and also emit harmful chemicals into the air.
"Homeowners can eliminate mold and help prevent it from returning by following five simple steps," said Eric Green, president of Planet People™, a Canadian manufacturer of non-toxic, high performance cleaning products for homeowners and professionals. "At Planet People, we advise consumers to follow the "Five Ds" to mitigate mold issues: Deflect, Dry, Discard, Deactivate, and Dehumidify."
1.     Deflect - A key to mold prevention is stopping water and moisture from infiltrating your home.  In the midst of a soggy spring, check that your downspouts are intact and are deflecting water away from your home. Also, ensure that the surrounding property is graded so that water is directed away from the foundation.
2.     Dry - Mold can grow on water-damaged surfaces in as little as 24 to 48 hours. If flooding occurs in your home, take steps to dry affected areas as quickly as possible. Remove excess water with a shop vacuum or water pump (you can rent one at your local home improvement store). Once the water is removed, use fans to circulate and absorb moisture in the air. If weather permits, open all doors and windows; indoor mold spore counts are typically higher than outdoor counts. Call a pro if the job feels too big or if you suspect sewer back up.
3.     Discard - Throw out water-logged and mold-infested materials that are replaceable, such as carpeting or ceiling tiles. The general rule is: if in doubt, throw it out. If drywall has absorbed water, the drywall should be cut out 12 inches above the water level and replaced once the room has dried out.
4.     Deactivate - Use a Health Canada-registered, non-toxic solution like Concrobium Mold Control® to fight remaining indoor mold. This innovative "2-in-1″ solution kills mold and prevents it from coming back, and it contains no bleach or other harmful chemicals. It's important to treat hidden areas in a home such as crawlspaces, closets and under furniture to be sure they remain mold-free. Special fogger units, which mist Concrobium Mold Control into the air, can be used to treat large or inaccessible spaces such as basements and attics. Foggers are available for rent at The Home Depot® Tool Rental department.
5.     Dehumidify - Run a dehumidifier to take additional moisture out of the air. Maintain relative indoor humidity between 30 and 50 percent and monitor humidity levels with a hygrometer, an inexpensive device found at many hardware stores.
Following the "Five Ds" will help alleviate the mold issues that many Canadian homeowners are facing in the wake of a wet spring season. For additional tips on mold control and to download a mold prevention checklist, please visit 
http://www.concrobium.com/
 or 
http://curemymold.com/
.
About Concrobium Mold Control

Concrobium Mold Control is a ground-breaking technology that helps do-it-yourselfers and professionals fight harmful mold without resorting to harsh chemicals. It's a Health Canada-registered solution that kills mold and keeps it from coming back – without bleach, ammonia or VOCs. Concrobium Mold Control is available at major retailers across Canada. For more information on Concrobium Mold Control, please visit
http://www.concrobium.com/
.
About Planet People

Planet People, a division of Siamons International Inc., is a Canadian manufacturer of innovative, sustainable products that offer high-performance cleaning to consumers and professionals. The company's brand portfolio includes Concrobium Mold Control®, Gloves Off® and iQ, The Smarter Cleaner®. For more information about Planet People, visit 
http://www.planetpeopleco.com
.
---
Enter to win your own fall cleaning kit including the Conrobium Mold Control
Expire Sept 22, 2012
Disclaimer: Opinions expressed belong to Saskatoon Moms and are NOT influenced in any way. Contest open to Canadian residents only.