Studio XII Music and Dance Co.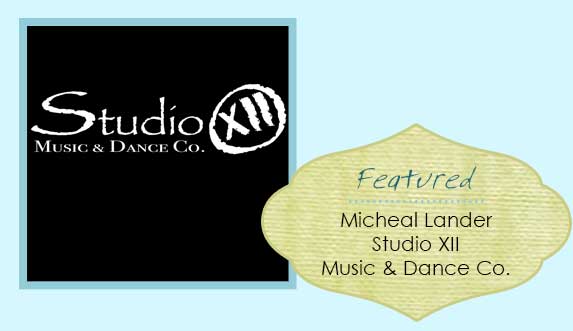 Thank you to Crystal who visited Studio XII!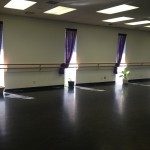 Studio XII Music and Dance Co  is a clean, well organized, cozy kind of place with a nicely set up room with plenty of windows and mirrors for the dance and exercise classes offered.  There are two washrooms on site and in-ceiling speakers for the music.
I was greeted by Michael (the owner) and he seemed very friendly and the more I talked to him, the more I realized just how passionate he is about his work.  He's got great ideas and has come up with a pretty great variety of dance lessons and fitness programs offered, from pre-natal yoga, to parent and baby yoga, to Latin dance and everything in between.  For grade school children, they offer ballet, jazz, tap, hip hop and broadway.  They also offer Zumba.  The Latin dance classes will also be accompanied with a 35% off discount at neighbouring restaurant, La Bamba.  He told me they are throwing around the idea of having a ladies night for Latin dance.  That way you can get some exercise then head over to La Bamba with the girls and have some fabulous food and drinks.  Which I think is a great idea.  They try to keep the class sizes relatively small, taking about 10 – 15 people per class.  This ensures every student gets the attention they need.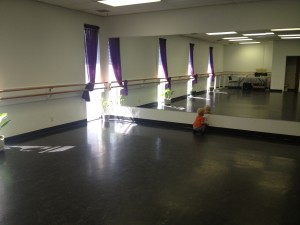 He said the company currently has three locations throughout the city, offering music and dance, but their primary focus is to promote the Aspire Dance Studio on Boychuk.  This is their 4th year for music and their 3rd year for dance.  Kids as young as 3 years old can be registered for dance, and as young as 4 for music.  He even said they are talking with a Kindermusic instructor and trying to figure out if they can work something out to start offering kindermusic out of their North End location.
Contact Information
Studio XII Music & Dance Co.
Website: www.studioxii.ca
phone: 1 (306) 955-6121
fax: (306) 955-6125
email: studioxii@me.com
Location: #9 – 1025 Boychuck Drive Saskatoon Sk S7H 5B2

The Inspiration
Although I had business ambitions since I was a teenager, it wasn't until I realized the value of learning and sharing education through teaching guitar that opened up a plethora of opportunities to grow younger generations when applying an genuine caring for the well being of others. This has continued to branch into the important and needed roll of child care and education at an early developmental age and we are very grateful for the support our community has shown so far.
What makes your product unique/different?
We are unique in our approach as we are quickly becoming a multi-faceted facility with services offered by hand-picked specialists in their given field who show passion for their craft. We are the only company in the province that offers education in Music, Dance, & Fitness and are setting ourselves up as a one-stop shop for the community arts scene!
What has been the most exciting day since starting Studio XII?
I really don't know where to start with this one. There have been many days of great accomplishments and even greater obstacles but we strive on to do better everyday. The days which are most exciting to me are the days I talk to our clients and hear about their appreciation for the opportunities we have provided our students. It makes all the hard work and sacrifices worth it!
If you could have one super-hero power, what would it be?
I would say transportation would be awesome!! To think I would've had one extra day in the Rocky Mountains last week had I been able to skip the whole driving there and back. Think of the carbon footprint… I guess that's another benefit to music… helping kill time!
What companies and products inspire me?
People inspire me. Folks who have shown ambition, drive, and determination to make a positive impact in the world moving us forward as a collective and collaborative being. Companies such as Virgin(Richard Branson), Macintosh(Steve Jobs), and Ford Motors(Henry Ford). There are many more but these are the first that come to mind.
What's your best parent tip?
My best parent tip would be reflecting upon the benefits I've seen from other families educating their children in a fun way as early as possible. Kindermusic is one example as well as early movement classes for children under the age of five. I would also simply recommend as much time with your child as possible.
What have I learned as a working dad so far?
Although I consider my students to be my children, I'll be the first to admit I'm not a parent yet. haha I felt it would not be fair to try and raise a family knowing how much attention my plans needed. However, I have staff who are working parents of newborns and I have watched how your perspective once having a child increases your definition of how to care for and be responsible for someone other than yourself. I will look forward to the day in which I can feel just as honoured to raise my own and care for him/her as much as I see my friends do.
---
Studio XII is offering one of Saskatoon Moms  a free, three month introductory of their choice to any one of our classes from pre/postnatal yoga, Latin/Ballet/Jazz/Tap and Zumba to Guitar/Piano/Voice or Bass lessons. A value worth up to $300!
Expire Sept 22, 2012
Disclaimer: Opinions expressed belong to Saskatoon Moms and are NOT influenced in any way. Contest open to Canadian residents only.