Squishy Snak Pak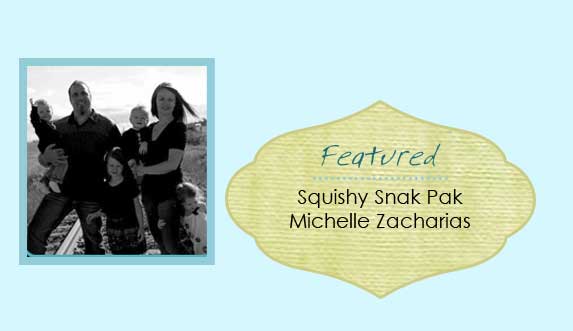 Michelle Zacharias is a mom of 4 who knows what it takes to make life on the go easier. Michelle has created reusable spouted pouch that allows you to fill it with whatever your family enjoys.
Right away I wished I would have had this for my babies. It would have been great to have homemade baby food in the reusable pouch to throw in the diaper page for an easy meal. An easy way to keep baby happy and filled with food you know what's in it.
I found her snak paks great for play school and rink snack time! I found the pack easy to fill by simply putting it inside a cup with the bottom folded over and then I filled with whatever I chose.
My littlest one still loves apple sauce but my toddler enjoys hers filled with smoothies, yogurt, puddings and yes, even jello. I love that it seals up nice and tight, the lid is easy to put on and take off. They can have a small snack on the go and I can throw the lid back on and toss it in my purse without worry.
We tend to spend a lot of time traveling with my family and our recent road trip to Alberta was a great test of the squishy snak pak. My 2 year old enjoyed yogurt in her car seat without making a monster of a mess. When she was done, it fit in her cup holder or she could pass it up to me. Even when dropped, it does a pretty good job of not leaking out of the spout all over the car.
Michelle mentions her 5 year plan is to add to the product line. One thing I hope she adds is a bigger size for older kids to enjoy too!

Contact Information
Michelle Zacharias
Squisky Snak Pak
phone:  306-831-6253
web: http://www.squishysnakpak.com/
Facebook: https://www.facebook.com/SquishySnakPak
Twitter: https://twitter.com/Squishysnakpak

Why inspired you to start your business?
I created Squishy Snak Pak out of necessity. I enjoyed making my own healthy baby puree, but my little ones loved the independence of store bought pouches. This product keeps us all happy
What makes your product unique/different?
Squishy Snak Pak offers the convenience of single use store bought pouches but the ability to fill them with healthy homemade recipes. Fill it from the bottom and squish it out the top, then wash it and reuse it over and over again!
What keeps you motivated
My 4 kids keep me very motivated. They are full of life and energy and it is congagious.
If you could have one super-hero power, what would it be?
I would LOVE to be able to see in to the future. Even just one day ahead would be great.
What is the most rewarding thing about running your own business
I find being able to do my work from home the most rewarding. It allows me to be at home with my children, but also feed my own sense of accomplishment
Where do you see your business in 5 years?
I would love to see Squishy Snak Pak in major retail locations, with an addition or two to the product selection.
What tip would you give other moms starting or running their own business?
Chat with your friends and family about your ideas. They can be great people to bounce ideas off of.
---
Squishy Snack Pak is giving away a 2 pack of Squishy Snak Pak. Draw date Dec 15.
Disclaimer: Opinions expressed belong to Saskatoon Moms and are NOT influenced in any way. Contest open to Canadian residents only.We were given a pair of smittens and neck warmer for review  however we already purchased and owned a pair of smittens before hand.